I landed in beautiful San Diego just in time to go to the Advanced WordPress meetup, hosted by Matt Cromwell. On the Lyft ride there my driver was doing some intense promotion of her brand. I was so impressed with her hustle that I'll  tell you to go check out her site: byfelicialive.com In it's own way this was the ideal start to a weekend filled with the hustle and entrepreneurial spirit that is WordCamp San Diego.
Here's the schedule for @WordCampSD! Looking forward to seeing @bamadesigner @enqueue_russ @heyadamsilver! #WCSDhttps://t.co/rQL8ogdIov pic.twitter.com/Twzld4kD79

— Need Someone To HQ (@NeedSomeoneToHQ) March 25, 2017
The Advanced WordPress meetup featured two amazing speakers who were there to answer questions about their respective products and insights on the whole on the state of WP. From NinjaForms, James Laws had trekked from Tennessee to "America's Finest City. He was joined by the Developer Advocate of WooCommerce, Michael Tieso. The conversation ranged from when is the right time to use which approach to ecommerce to long term support strategies for rolling out updates to NinjaForms. One interesting tidbit I heard was that there is an internal Woo team called "The Extensibles" who completely focus on, well, extensibility and are one of the main reasons the product is as versatile as it is. It was a wonderful discussion made even better by a few choice refreshments.
Getting started with the pre-WordCamp Meetup with @michaeltieso and @jameslaws #WCSD pic.twitter.com/Q5qTiaAoaP

— Devin Walker (@innerwebs) March 24, 2017
My hotel room was huge. I got bumped to an executive suite, which was novel for me. I didn't exactly know what that meant until I opened the door and did not see a bed, but instead a living room. Then I noticed the other door and found the entire bedroom behind it. It is pretty common for my hotel room to be bigger than my apartment in SF, but this was a whole other level. Very grateful to be upgraded.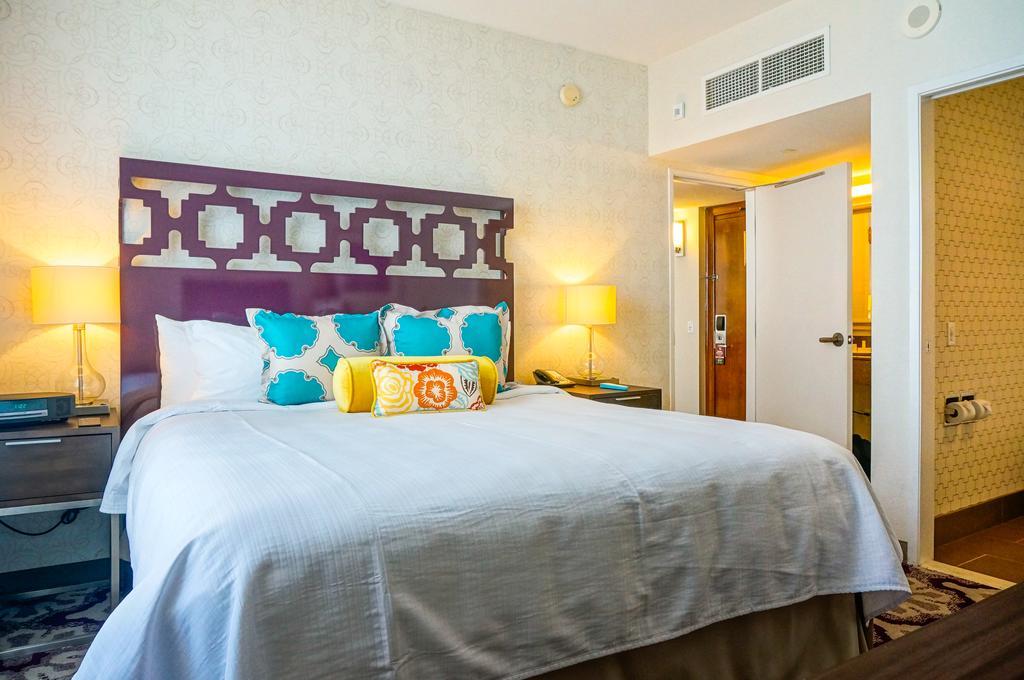 The Food And The Fun:
Friday brought an interesting mix of seeing San Diego, preparing my talk and working. Before I knew it I was hanging out with some of the other WCSD folks for some afternoon conversations to 'pre-party' for the Speaker/Sponsor/Volunteer dinner. Then I returned to the same venue that I had been at for the AWP MeetUp, the really awesome Downtown Works space. It was great to catch up with a lot of old friends and meet many new ones. The food was fantastic (I had the Ahi tuna) and the wine was even better! Thanks to the WCSD crew for such a great and fun night. Most of us called it an early night because there was an early morning on Saturday, but with so much excitement in the air, I for one, found it a little hard to sleep.
Yay!

RT @McDwayne: Thuis is a great speaker dinner. Thanks #wcsd @royboy789 @wpmodder approved pic.twitter.com/DANOp4MZ0Y

— WordImpress (@WordImpress) March 25, 2017
Saturday morning brought with it coffee and many many pastries and tons of snack food options. This was the best provisioned camp I have been to yet! Lunch was pretty awesome 'box lunches' with some really fresh and tasty choices. I had a pretty great Thai chicken wrap. The nature of the space meant there was not really any way to sit all together, like there was the last time I was in SD, but I still had many great conversations.
Took our lunch outside. #wcsd pic.twitter.com/W6Xh9eenIk

— Austin ⛄️ Passy (@TheFrosty) March 25, 2017
Saturday night was a pretty awesome party at the recently renamed Little Italy's Loading Dock.  Much fun was had as some intense giant Jenga and Corn Hole games were going on while Anchor Man played on loop in the background, reminding us all to 'stay classy'.  The party went pretty late which combined with a long and full day left everyone ready to call it a day.  A good day indeed.
.@WordCampSD after party 🎉 #wcsd pic.twitter.com/TXFBNWRW35

— Austin ⛄️ Passy (@TheFrosty) March 26, 2017
WCSD17 Afterparty crazy. Devin,Heather,Verious,Jim,Michael,Kim #wcsd @innerwebs @iamkimblake @verioussmith @bastosmichael pic.twitter.com/CYQ2znNNGN

— Jim Walker (@hackrepair) March 26, 2017
Sunday morning started later than most camp days which gave some of us a chance to have some great breakfast at The Broken Yolk.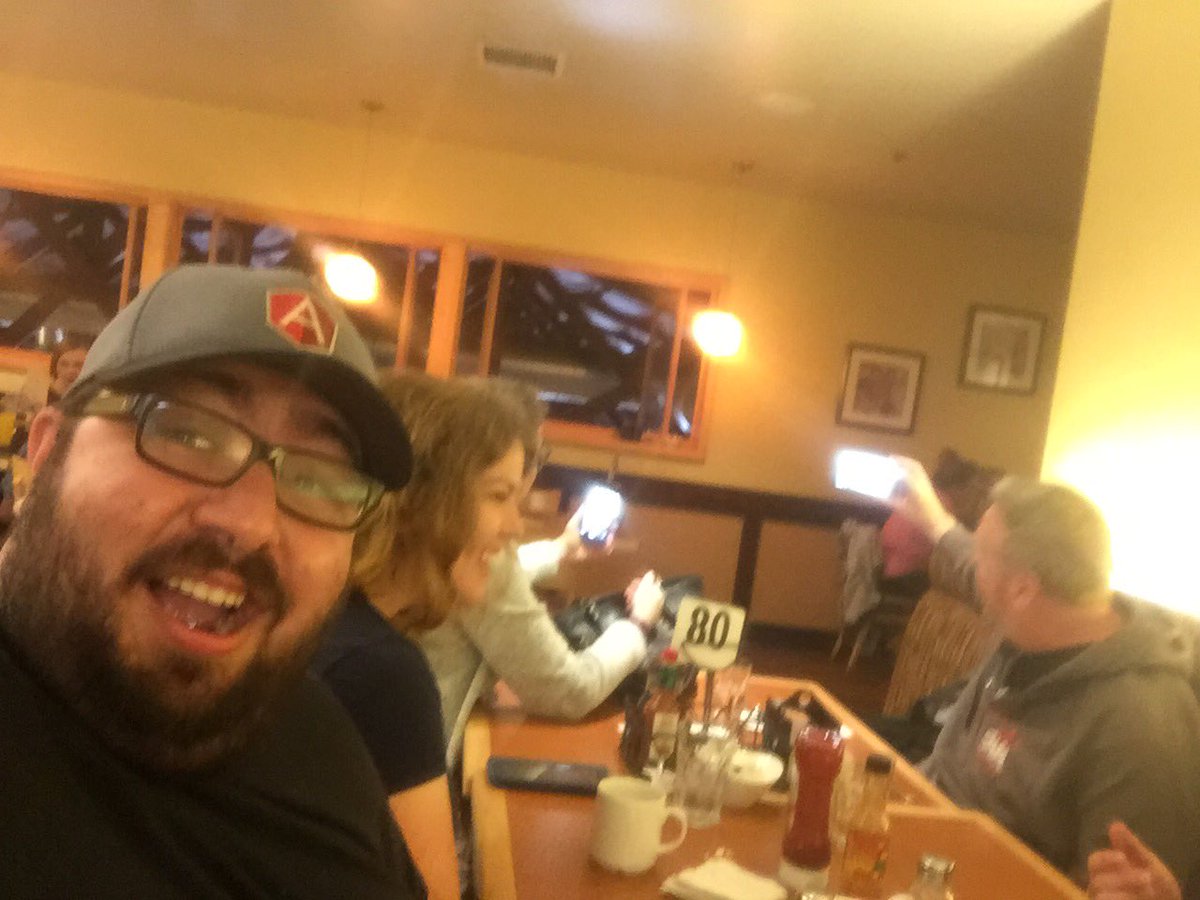 Sunday had no lunch, but all the donuts you could imagine from San Diego's Famous Donut Bar:
Donuts from the Donut Bar fresh and ready! #wcsd pic.twitter.com/WdDKex7FPq

— Ron Pasillas (@rpasillas) March 26, 2017
The Sessions:
Unfortunately this time around I wasn't able to get to everything and most of the ones I went to I had to leave early to keep 'staffing the booth' for Pantheon.  I love doing that a lot because it gives rise to many awesome conversations, but it means my notes from sessions are sparse.  Here is what I got.
Continuous Integration for WordPress
I was excited to see Josh Cummings talk for a few reasons.  First and foremost, because it is the right way to approach website projects.  And also because he gave a shout out to my company. He said:  "A lot of this CI  requires command line use.  If you like GUI, use Pantheon".  I really appreciated his approach of building up the case for CI from first principles like Don't Repeat Yourself (DRY) and the need to "automate All the things"!
Great stuff from @jcummingsdesign at #wcsd "Continuous Integration for WordPress" Automate all the things and refine the process! pic.twitter.com/JkbqRVjXVT

— Dwayne McDaniel (@McDwayne) March 25, 2017
Understanding and Supporting Web Accessibility
Next up, Rachel Carden presented on a topic I have been thinking about a lot in the last year or so.  There are legal changes coming soon to the internet and it is not just a good idea to get ahead of them, it is a great idea to already be compliant and welcoming everyone to use your site.  Rachel did a great job of laying out some simple ways to approach this area to make your site more accessible.  I know I for sure will be rethinking some things around colorblindness and keyboard only users.
Advocating #webaccessibility @bamadesigner #wcsd pic.twitter.com/qrgdgKERpX

— Justine Pretorious (@jpretorious) March 25, 2017
Flexbox for WordPress
Joseph Abraham gave a really solid overview of Flexbox.  I was only familiar with this tool for CSS thanks to the JavaScript online course I took from Wes Bos. Applying this simple to use yet robust part of the CSS standard can easily make any page automatically adaptive.   The biggest take away for me was finding a new way to learn this tool deeply.  http://flexboxfroggy.com is a little but silly looking browser game but it is absolutely easy to use and I know I am going to walk away with some better CSS chops from mastering it.
Learning about #flexbox with Joseph Abraham! #wcsd pic.twitter.com/Nz2jidXDRA

— Justine Pretorious (@jpretorious) March 25, 2017
My Session
I was very nervous to give a technical presentation for the first time at a WordCamp: "WP-CLI: Don't Fear The Command Line".   I have give many demos before, but never in front of a room that packed.  Although this was the second time I was giving this talk ever, it was the first time doing it in person to a crowd.  You learn a lot working on a talk and especially from the feedback from the audience afterward.  I am going to be submitting this talk to other WordCamps and refining it as I go.  I want to give a huge shout out to Shawn Hooper for giving me the courage to do this and permission to leverage a lot of the work he had done in his previous talks on the subject.
Full house @McDwayne talk! WP-CLI: Don't Fear The Command Line #wcsd pic.twitter.com/UpsIFAmg6V

— Justine Pretorious (@jpretorious) March 25, 2017
The Keynote
Stephen Carnam kicked off day 2 with a rousing keynote all about the golden rule.  He kept driving home that this core principle, whether we consciously think on it or not, drives a great deal about our live and work.  After all, if it were not for our internal desire to create better UX, we would have no way to empathise with the users of our products.  He was able to encapsulate this pretty well in his story on how ThemeDreamer became Serverpress (which is one of the tools I keep installed for quick WP local builds).
Enjoying the #keynote @WordCampSD with @Steveorevo #wcsd pic.twitter.com/uYwmPR9orE

— Need Someone To HQ (@NeedSomeoneToHQ) March 26, 2017
Last but not least I want to give a huge shout out to the awesome Joseph Abraham for giving me a lift to the airport.  Just an awesome human being and a true hard worker.  We had a really great discussion on work ethic and the importance of being passionate.  I know the world would be a better place if we all believed in the value and virtue of hard work.
Thanks for an awesome weekend San Diego.  Camp was great and I can't wait until I find a reason to come back.  I hope I don't have to wait until WordCamp 2018.
Thanks for the dashing speaker swag! #wcsd #wcsd17 #wordpress #wordcamp pic.twitter.com/AHKhao1kCU

— Stephen J Carnam (@Steveorevo) March 27, 2017
And…. I'm home after an awesome time at #wcsd. Thanks to all orgs, vols & spnsors. Had a blast! & made new friends! #community pic.twitter.com/MdTOfW12ge

— Adam Silver (@heyadamsilver) March 27, 2017