Although WPCampus Online was the first conference I saw in 2017, the first one I had the privilege of attending in person was LoopConf in Salt Lake City .
My mind was simply blow by the quality of the event and the staggeringly awesome speakers. There was only one session track at this conference, which was aimed at the hard core devs who build WordPress and make it amazing. This did make it easy to attend almost all the talks. Check out the full schedule here.
The Food and The Fun:
Monday night capped off with an extended 'team' dinner, which involved trivia, which was a surprise to us when we showed up at Twist.  My team, "Team Foss" came in 2nd thanks to the awesome talents of Steve and Chris from HumanMade,  and Demo from BoldGrid. I got to cap off the night with some karaoke as well! SLC knows how to sing!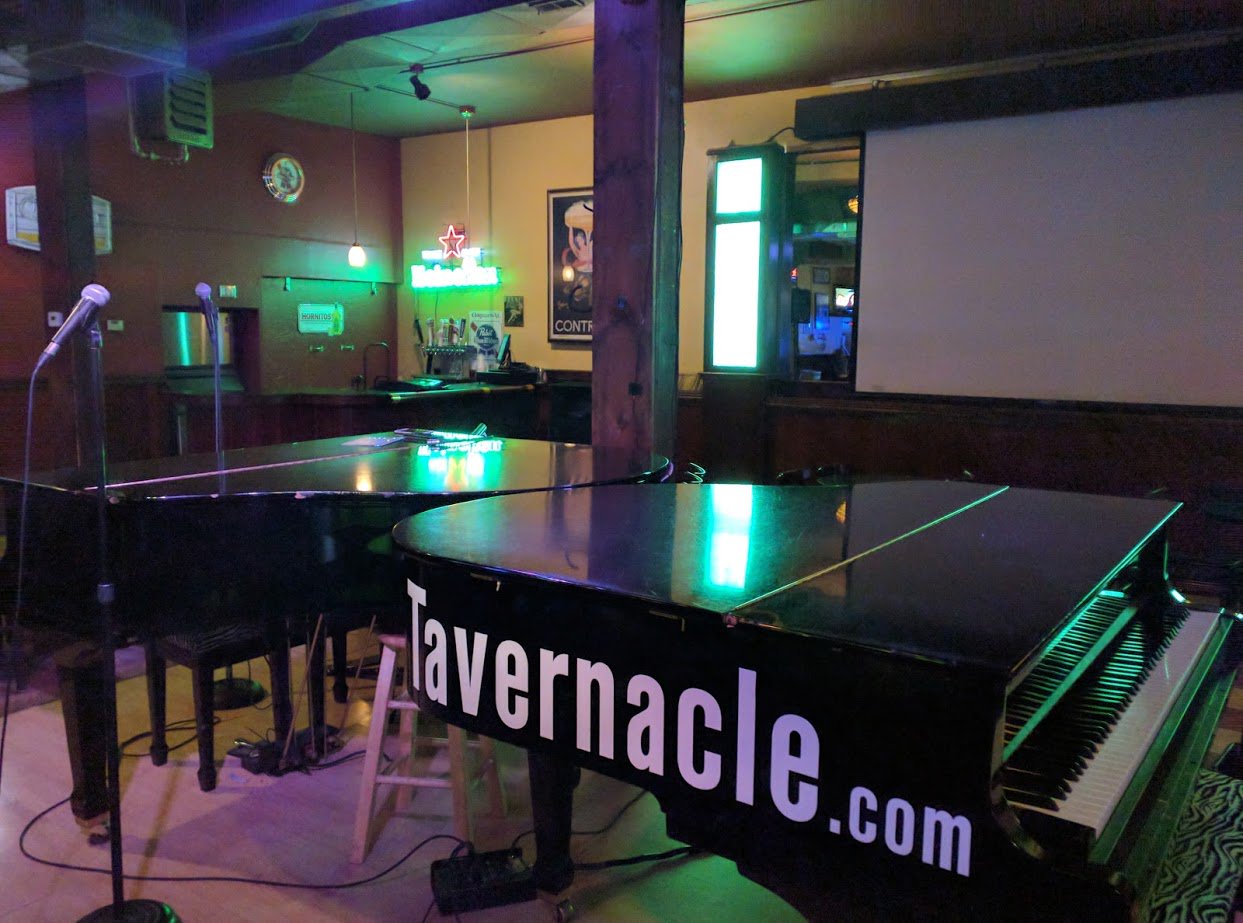 I also discovered that Utah makes the smoothest vodka on earth, Five Wives. Seriously, go buy some of this stuff, you will not regret it, assuming you like vodkas.

Tuesday morning brought the familiar rush and hustle bustle of a convention. People slowly wandering in and looking for coffee. LoopConf coffee was outstandingly good and they even provided a hot breakfast, plus many, many snack type foods. I have not been better fed at any other conference.
The Tuesday night after party was simply fantastic! Live music and a local game shop brought over their demo copies of dozens of games. There was so much to do and so many people to hang out with. And so much good food. Hand-crafted burgers, assembled on demand, served with milkshakes, french fries and, what I came to find out all of Utah is sort of obsessed with, french fry sauce. I even got a few bottles to take back with me to share with the folks in SF.
We all made it back to the venue Wednesday morning after not too crazy of a Tuesday night.  We were greeted by breakfast burritos from a food truck and tons of snacks.  Again, most well fed I have ever felt at a camp. Wednesday night found me again hanging out with some of the awesomest people in the community!
The Trainings:
Monday kicked off with training sessions. Due to my other responsibilities, I wasn't able to attend either of these, but my colleague Andrew Taylor got to teach with two living WP legends, Daniel Bachhuber and Weston Ruter, on the Customizer.
Roy Sivan and Josh Pollock were also on duty laying down the fundamentally important lessons of building better interfaces leveraging the WP REST api and AngularJS. I would have loved to have been there, but I was setting up our booth and did have some awesome conversations with the folks from some of the other sponsors.
The Sessions:
I am not going to go over all the talks. There were so many awesome ones I kind of feel bad not just writing a full post for each one but want to post this while I am still in SLC. Aside from the keynote, which really set the tone, there are three talks from this week that blew my mind a little bit and I want to spend the rest of this post reflecting on those.
I was excited to see the opening keynote, even though I have the extreme pleasure of working with the presenter, Josh Koenig, on a daily basis. One of the fundamental questions we do have to ask ourselves in our profession is: Why WordPress? I can honestly say I felt inspired by this talk and I think that energy was felt throughout the crowd as the event ramped up. The air was electric with a feeling we were united by a common purpose; to make WordPress even more awesome than it already is and make sure the rest of the world, no matter where in the market you are, feels that too.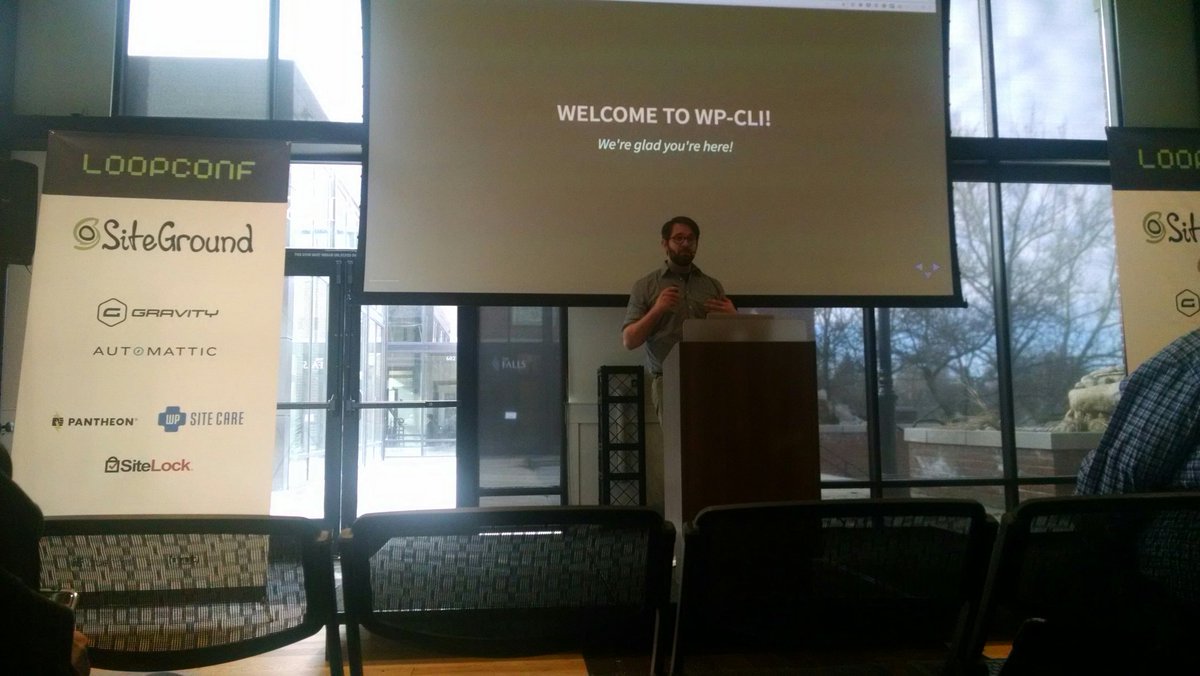 Steve Grunwell's Writing WP-CLI Commands That Work was like drinking from a fire hose. Seriously covered a week's worth of material in 30 minutes, which is how I prefer my technical talks. Since discovering the power of 'wp search-replace' last year I have been hooked on this exceptionally useful tool but the extensibility has been a bit of a mystery to me. This talk lifted the fog of complexity and I am pretty confident I could extend the tool if I need to. The most amazing part to me was the fact that –help is autogenerated from the comments in your code. Make sure you check out his post on it here: https://github.com/stevegrunwell/writing-wp-cli-scripts-that-work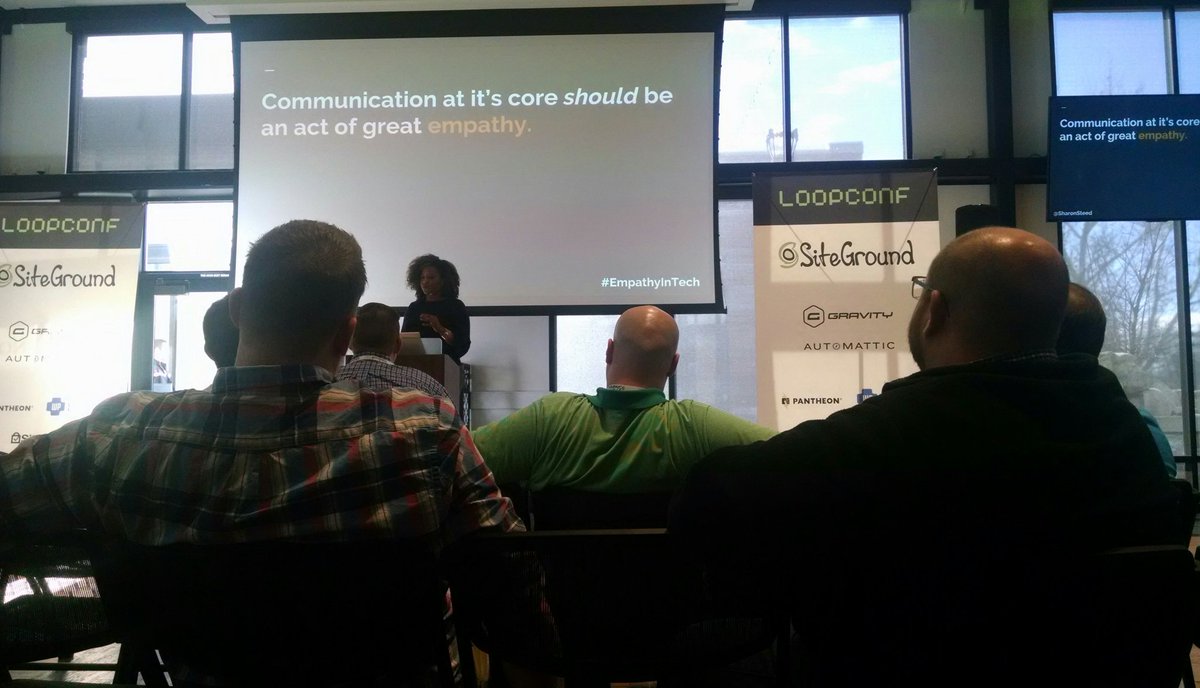 Next was Sharon Steed presenting the powerful session, Empathetic Communication: Why Vulnerability Is The Key To Connection. This is such an important lesson everyone in tech needs to hear and delivered so powerfully by Sharon that it stands out in my mind as one of the best talks I have ever had the privilege of seeing live. Walking away with points that 'empathetic communication drives collaboration' and 'tech can not replace face to face communication' confirmed things I have been thinking for so long but had not articulated this well. Being reminded that all people are afraid of being wrong and begin misunderstood makes me really want to strive to do better with my online communication. But the single quote I am going to be reciting long into the future is "failures of communication can not be automated away." Fortunately for everyone there is a recording of an earlier version of this talk here: https://youtu.be/4O4-poBoTck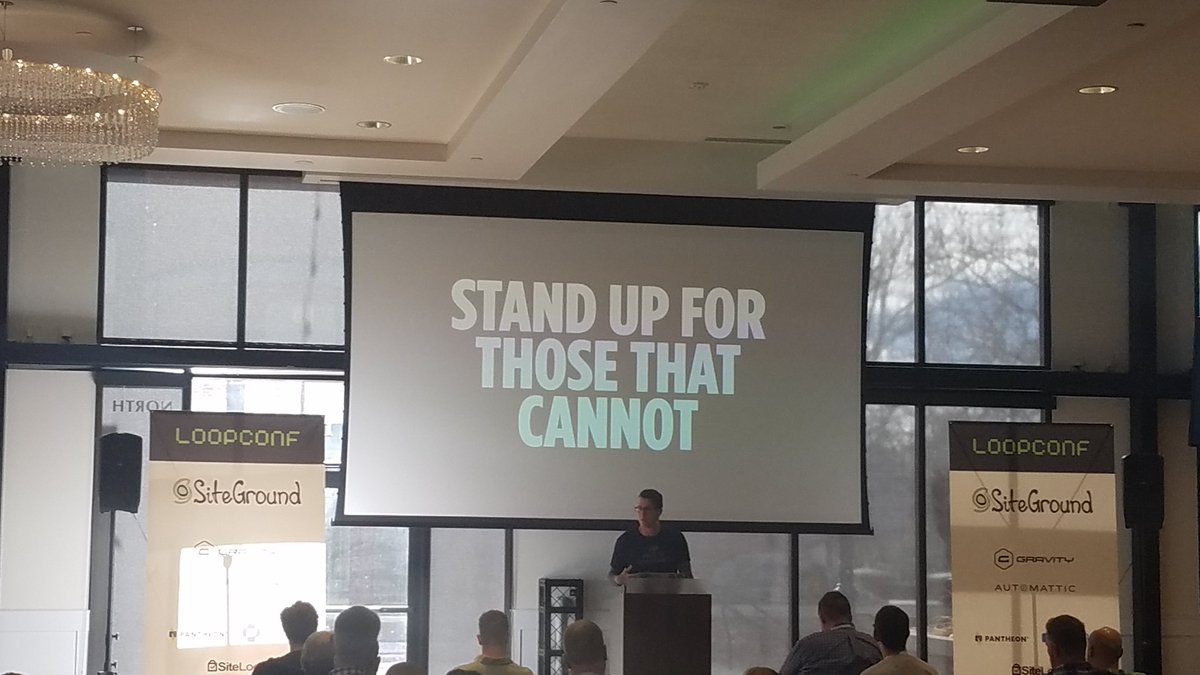 Finally was maybe the most important and moving talk I have ever seen: Andrew Norcross' Create The Community You Crave. I wasn't sure exactly what to expect going in, but quickly realized this was not going to be another run-of-the-mill talk. Andrew, dressed in a shirt that had a US flag with the words 'Made By Immigrants', gave us a warning that part of his talk might offend some folks and children watching at home might not need to see all of this. He then showed slide after slide of horrific, publicly made, comments that were misogynistic, transphobic, bigoted, and just flat out horrible, but completely real. These were not from 4chan or some other underbelly of the internet, but on pull requests from the WordPress.org community and GitHub. Public places intended for collaboration. My stomach churned and even now I am getting upset recalling what I saw. After a really grim and alarming start he went on to give some very practical and realistic ways we can try to remedy this toxicity.
First, let's start recognizing our own privilege. I am a white heterosexual man, college educated and fear absolutely no reprisal for anything I say or do that points out that privileged position. There is a societal power to this and just admitting it out loud can help me focus on using that power to help and not hinder others.
Next, before we comment on something online, let's ask ourselves a few key questions: Does it need said? Does it need said publicly? Does it need said to that person? Does it need to be said right now? and most importantly, does it need said by me?  Sometimes the answers are yes.  Especially if it is in defense of the defenseless.
He also made the very astute observation that sometimes, in some circumstances, there is no fixing of an injury outside of amputation. Some small handful of vicious trolls who do nothing to help and only can destroy the community we all love should be removed and perma-banned. As he put it "if you keep walking into a place and get punched every time you walk in, eventually you stop going back, we all have better things to do." Some folks are just never going to stop trying to punch people and need to be removed.
At your own discretion, here are his slides: https://speakerdeck.com/norcross/create-the-community-you-crave Seriously, this talk was a wake up call and should be given in some form at every camp from here on out if we are going to make sure the WP community keeps growing and being awesome.
And the WP community is awesome.  Do not let that go unnoticed or uncelebrated!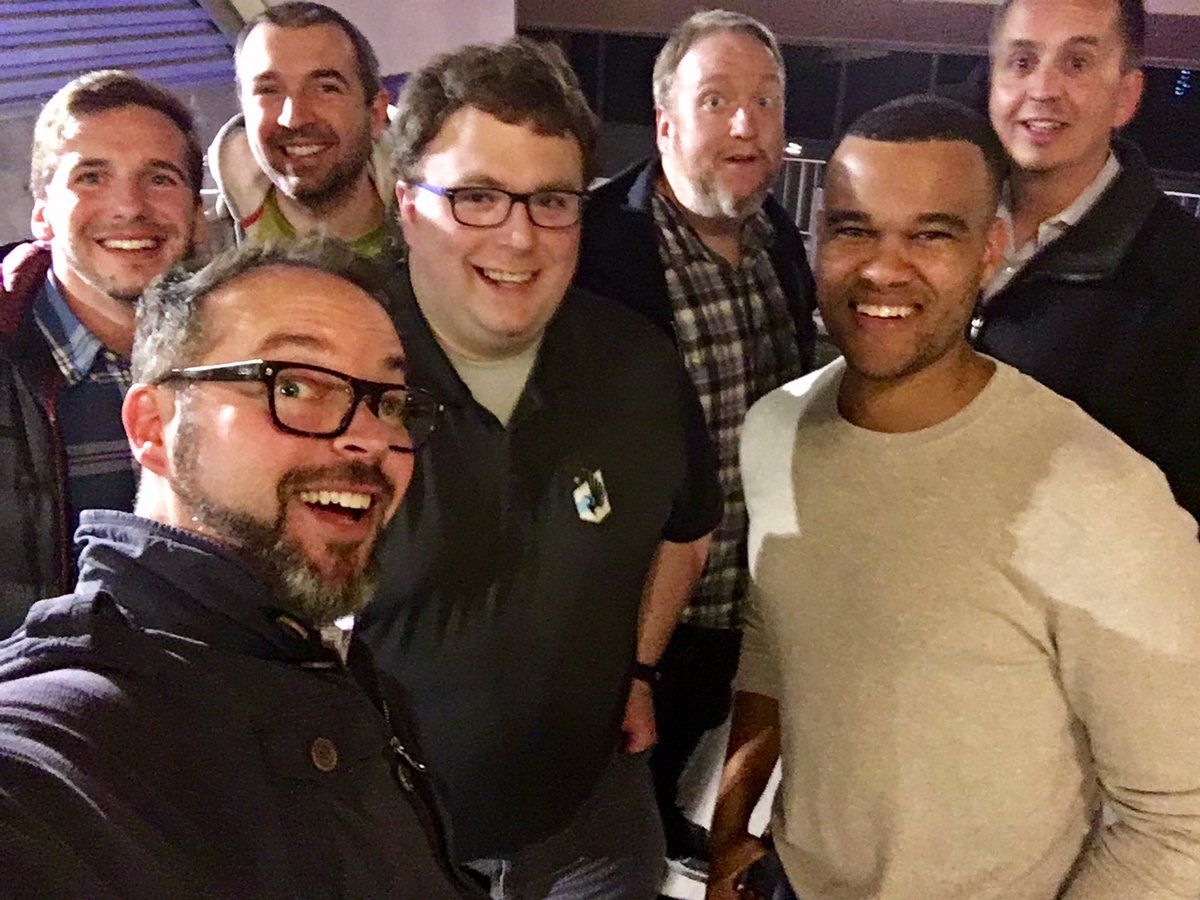 So, go to LoopConf next year.  It is one of the best events I have ever attended and the quality of speaker was just mind blowing.  No matter where it is it will be one of the best places to be!